1. Havana1957 on Espanola Way
Havana1957 on Espanola way is one of the best restaurants if you do not mind sampling with some lesser known cuisine. It serves the Cuban cuisine and is just a short walk away from the Miami Beach. On the weekends, this restaurant can get pretty busy. That is why it is a better idea to opt for the reservation in advance. On Espanola way, you would be able to find plenty of cafes as well as a restaurants. However, if you want to try something different, this is the perfect place for you. Not only you would be able to find unique food options but also the drinks here are also pretty different. This ensures that instead of just opting for the tried and tested cuisine, you are able to do something new.
Some of the food and beverages which you should definitely try are:
-Cuban Mojitos
-Garlic Chicken
-Tostones Havana 1957
-Croquetas
-Camarones Al Ajillo
If you're not familiar with the Cuban cuisine, the servers here would be able to guide you in choosing the best recipes. On the weekends though, it can get pretty bad and noisy.
The ambiance here is pretty casual and family friendly.
Compared to some of the other options on the same street, this restaurant is actually pretty affordable.
The portion size is pretty huge and that is why it would provide you with value for money.
So, if you do not mind experimenting with Cuban cuisine, Havana1957 is one of the best options for you since it provides you with some unusual food options and also some great drinks.
2.Hosteria Romana
429 Espanola Way
Miami Beach, FL 33139
305-532-4299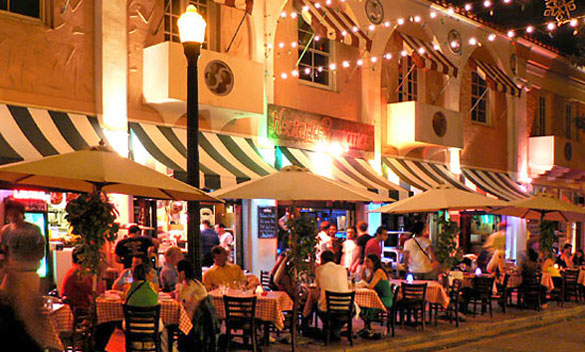 Hosteria Romana on Espanola Way is one of the great restaurants on the Espanola Way. It opened in 2001 in the heart of South Beach. However, it is one of the few restaurants which offers you authentic Italian cuisine. While most of us are familiar with local Italian cuisine this place really is Italian. From the ambience to the authentic Italian recipes this place is the exception.
It is a restaurant with great views of Espanola Way,outdoor seating and the feel of Italy. Some of the food and beverages options you should definitely try are:
-Prosciutto di Parma
-Fried shrimp and Calamari combo
-Homemade fettuccine "Mountain and Sea style"
-Salmon filet sauteed in a white wine sauce
Their are some great lunch specials and drinks are just $5.
The servers here are pretty friendly and the service is quick as well. If you're stuck somewhere or confused about the menu, the servers would be able to make recommendations. On weekends it can get full quickly.
If people watching is your thing, you can easily opt for outdoor seating which would enable you to do the same while enjoying some great food.
So, if you're looking to sample some Italian cuisine near the south beach, this is one of the best and affordable options nearby.
SaveSave
SaveSave
SaveSave
SaveSave
SaveSave
SaveSave